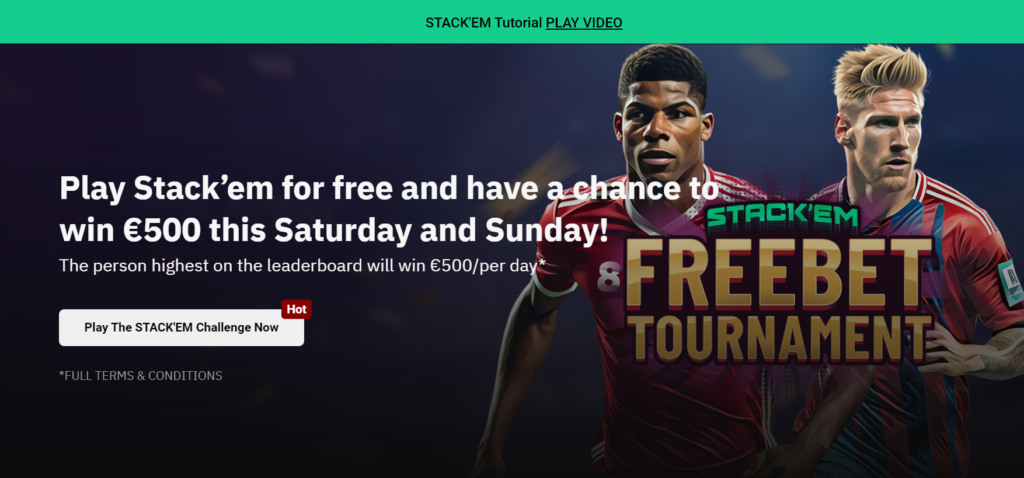 Get Ready to Bet and Brag with ParlayBay's Stack'em Freebet Tournament
Hey there, all you sportsbook enthusiasts! Buckle up, as we're bringing you the play-by-play on how to throw down your wagering skills in the exhilarating Stack'em Freebet tournament brought to you by ParlayBay. This is your chance to turn football fandom into real cash. Let's get into the nitty-gritty of how you can participate:
Step One: Sign-Up Smarts You've got to be in it to win it! Make sure you're registered with one of ParlayBay's partner operators, which you can find right here. Remember, you need to be at least 18 years young to get in on the action.
Step Two: Trustworthy Typing A verified email with your operator is a must. Be sure you're a legit player who's made at least one deposit in the past.
Step Three: Bet Buff Each gladiator in this betting arena gets €50 worth of free bets upon joining the tournament. You can place up to 10 bets, each with a max stake of €5.
Step Four: The Showdown with STACK'EM The betting battleground? ParlayBay's STACK'EM football games. It's an all-access pass to live games – no schedule to follow.
Step Five: Bet It Like Beckham Throw down your €5 bets on any STACK'EM game. Aim for the stars with the highest bet builder score to get your name skyrocketing on the leaderboard.
Step Six: Leaderboard Lore Every player's performance gets a spotlight on the leaderboard, but only those duking it out in this promotion will have their names displayed.
Step Seven: Prize Payouts The early bird catches the €500! Top the leaderboard and this cash prize could be yours. Accumulate the most points daily and see yourself climbing the ranks.
Step Eight: Tiebreaker Tactics In case of a leaderboard deadlock, the player with the most folds/legs on their bet builder takes the cake. If it's still a draw, we let lady luck decide through an independent draw.
Step Nine: Exit and Re-Entry Extravaganza Want to take a breather or play with real money? You can tap out of the tournament and return whenever you're ready. Find more info on this right here.
Step Ten: Windfall Winners Victory tastes sweet, but €500 in your bank account within 48 hours of the competition ending tastes even sweeter! The best part? No rollover needed for withdrawal.